15 Mar 2015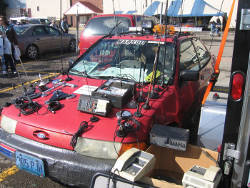 GVARC will be hosting a swap meet in conjunction with the VE testing session on April 4th, 2015.
The meet will begin at 1000 in the testing site parking lot.
The club plans to continue this tradition to provide newly minted hams an oppourtunity to purchase a rig while awating their call signs and a place for existing hams to offload neglected equipment.
There is no charge for attending this event (buyers or sellers), but the club requests that only ham related items be exhibited. However, an exception to this request may be granted for jerky or other protien based victuals.
Talk-in is on the 147.000 (PL: 103.5) repeater and directions can be found on the testing page.